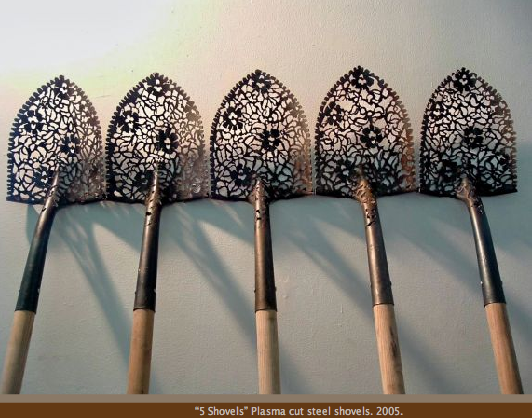 Now that's what I call FUNCTIONAL ART!
I have recently fallen in love with the works of
Cal Lane
,
a woman who has quite a way with a blowtorch!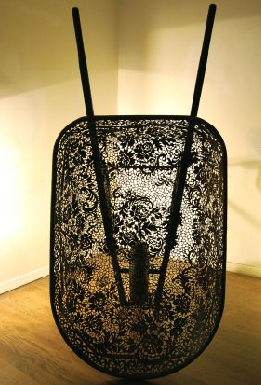 I can't imagine how much time it must take her
to achieve such intricate precision in her work
This is how she describes her approach:
"I have always been interested in embracing the very thing that repels me in order to understand it: I prefer to make sense of things or in order to suspend (or pass) judgment."
I like the way she sees the world...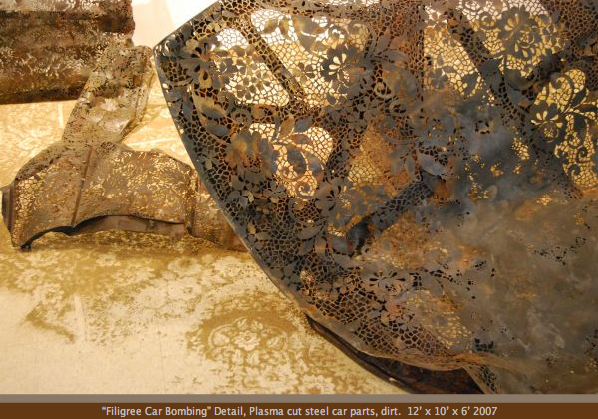 ... and admire such technique, such patience ...
I also admire how she accomplishes exactly what she sets out to do:
"I like to work as a visual devil's advocate, using contradiction as a vehicle for finding my way to an empathetic image, an image of opposition that creates a balance - as well as a clash - by comparing and contrasting ideas and materials. This is manifested in a series of "Industrial Doilies", pulling together industrial and domestic life as well as relationships of strong and delicate, masculine and feminine, practical and frivolity, ornament and function. There is also a secondary relationship being explored here, of lace used in religious ceremonies as in weddings, christenings and funerals."
I am humbly inspired
Thank you so much for all your support and kind words on my new
website
.
I'm a bit new to the 'publicity' thing
I'm much better at sticking up for
and promoting others...
It's rather strange to do it for myself
So I'm trying to pretend it's not me I'm doing it for
Then that jolly photo keeps popping back out at me ;-)
For now, I shall go to bed and dream of
lacy wheelbarrows
and reconciling
the frivolous with the practical,
ornament with function
and the industrial with my
domestic
life...
Ange
Here in France!! In the Auvergne region.
That's not TOO far from TOulouse ;-)