Have been playing around with ideas for New Year's wishes cards (only 2 days to go. YIKES!). These, as you can see are the badly scanned, first drafts and all that I have left; the finalised ones went off this morning to my calligraphy class and I raced out of the house clutching them tight to my chest, without a second thought to scanning or photographing them.

All the while though, this phrase got me thinking... about thoughts and what I could think ... to create a world for me, my family, my friends, you ... all of us.

And then I got to thinking more, about not only MY thoughts... but YOURS too. So this card doesn't just represent my own thoughts and dreams (of peace, encouragement, success, love, joy, health, and wealth) set in ink to be sent to you. But also it is a call for you too to think about your thoughts...

Below are a list of thoughts I thought it would be nice to be thunk, and think out loud together - sort of like forming a global think-tank for creating that world we all want so much for ourselves, our loved ones and let's face it: even our not so loved ones for they are the ones that need our thoughts the most... Every one still following? Think so ;-)

Think Positive: A lifetime will always last a lifetime whether you spend it laughing or crying

Think Healthy: A healthy mind helps make a healthy body (ok, ok - still looking for proof of that one!)

Think Rich: Make each moment rich just by being where you are when you're there (are we there yet?)

Well - that's a good start for a group of busy people! What do you think?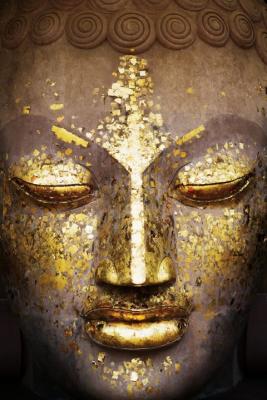 I'd like to dedicate this post to my dad, affectionately known to me as BudBud. Admittedly we called him Budbud more for his lovingly cultivated belly than for his zen attitude to life but never-the-less, he's the man who is single handedly responsible for instilling in me down to a cellular level that it is my own thoughts that create my world. Proof that brainwashing children actually works ! ;-) Wasn't all tea and cupcakes that adolescence but I'm reaping the benefits of it now...

Joyeux Anniversaire for Saturday Budbud...

Thoughts of thanks for setting me off on the right path.